LINCS LITTLE HENS - Thanks
Would you like to see your business details advertised on our website?
Do you sell animal housing which you would like to promote here with photographs & prices?
Could you provide us with a shed and/or a hen house/run either F.O.C or at a greatly reduced price, for us to endorse your company as having used your products ourselves?
We often get asked regarding suitable animal housing as to recommending someone. Could that be YOUR company?
Please email us on lincslittlehens@aol.com or call 0845 017 9422 and leave a message if there is no reply. We will call you back.
We often send letters out to companies asking for help. If YOU think the company you work for may be generous and be able to spare £30 in exchange for an advertisement on here and also on an actual poultry crate, please drop us an email with who to address the letter to and we'll send them one.
Thankyou
---

Our hens thrive on Bearts Garden Blend and Layers meal.
Bearts also sell trailers, quad bikes, horseboxes and quality outdoor wear and recently gave us an excellent deal on our Batesons trailer.
We use Bearts of Stowbridge for all our supplies.
---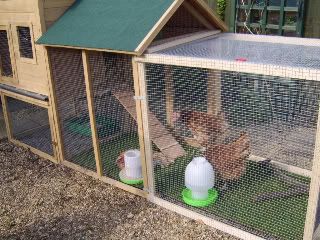 We would like to say an enormous THANKYOU to Sue Hayward-Ault and family for the wonderful Des Res donated to us.
It will come in very handy and has many uses for us.
Thankyou once more.
---
WE WISH TO THANK JOHN BROOM FOR ALLOWING US TO BORROW A TRAILER FOR THE HUGE RESCUES

---
MANY THANKS ALSO TO JILL TERRY AND CHRIS & LYNN TURNER FOR DONATING DOG CRATES FOR THE POORLY HENS WE BRING BACK TO NURSE BACK TO GOOD HEALTH.

THEY ARE VERY MUCH APPRECIATED BY US AND THE CHOOKS.
---
We need to also thank Jill Terry again for coming to our aid during our website crisis. thanks so much. It's great to make such a good friend through rescuing the hens xx

---
Thankyou to Sutton Bridge Parish Councillor, Jenny Rowe for organising and allowing us access to the gated old A17 road so we are not blocking the junction of Eastbank onto the A17, nor the swingbridge. This also gives us peace of mind that should a hen somehow escape and make a dash for it, we won't cause a traffic pile up on a major arterial route into the east of England.
http://www.multimap.com/s/PUmSqBDA
---
Thankyou so much to Stephen Brighton from Bearts of Stowbridge for doing us a great deal on a much needed trailer and aldo doubling the output of our hens eggs by recommending their own Garden Blend! Please see the sponsors page for a clickable link to Bearts.
---
Thanks to Jill Terry again for coming up with another much needed dog crate! You are a godsend, Jill!
---

Thankyou so so much to Sharron and Justin for such a kind and generous donation which will be put to great use purchasing 2 new crates which will be labelled as donated by you.
---
Thankyou to Linda Sneddon for the sponsorship

---
Thankyou to Andrew at Pegasus Paper & Print in Nottinghamshire
---
Thankyou so much to Elaine Cole for the donation of hen bedding
---
Everyone is so kind helping us with the items we need. Thankyou to EVERYONE who has helped us in one way or another. We really appreciate everything, yet expect nothing. We do have to ask for help sometimes on our "help" page as pretty much everything is funded by ourselves and we we went through a really bad financial patch.
Our real reward though is seeing these lovely hens pecking the ground freely and being retired and it doesn't matter whether they lay eggs or not.
We do sell eggs from our healthy, happy rescued hens for £1.00 for 6 eggs and every penny goes into the pot that pays for the hen food so we make no profit whatsoever on them