LINCS LITTLE HENS - Housing
We have found a local carpenter who will make quality bespoke hen housing to YOUR designs and requirements. None of the flimsy imported "pet shop tat" that doesn't last a couple of winters- Neil's will outlive your hens!

Neil has experience in making homes for ex battery hens and the quality and detail is fantastic. He keeps ex battery hens himself and so knows their requirements.

Please contact Neil Thompson on 01406 359917 or 0777 451 8333 or he can be emailed on ntcarpentry@tiscali.co.uk
Neil is based in Sutton Bridge and here are some pictures of the work on his own hen house which I have seen for myself and I imagine it will last forever.
Please click the images to enlarge them.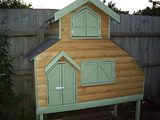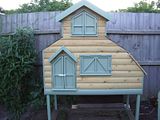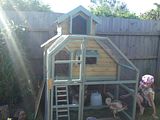 ---
You could look for some inspiriration on an American site called Backyard chickens, just click on each section depending what size coop you intend to have and there are loads of designs, many with instructions too.
We are great fans of inspiration and building our own that we love this website.
We love wooden houses, designed with love and care rather than shiny plastic boxes that need polishing and look like microwaves or portaloos.
We LOVE the inspiration here from Michael Thompson. What a fantastic idea!
---
If you live near The A17, Lincs; we know of an excellent supplier of hen houses. None of your "pet shop rubbish" but good strong hen houses for around £80 upwards, which is amazing value if you actually look online at prices elsewhere. Please contact them ;
Mr & Mrs Cole
Greenacres Lodge, Washway Road, Saracens head, Holbeach, Spalding PE12 8AH Telephone 01406 422 679
Click here for Google satellite image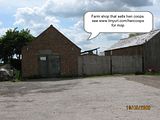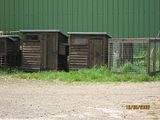 Please click the pictures to enlarge them.
These are chunky hen houses (not flat packed) and in a village called Saracens Head just off the A17 in Lincolnshire.
Please bear in mind they are from a farm shop who make these for a hobby and they are not mass produced. You WOULD need a large van or trailer.
I'm sure that if you tell them they are for ex battery hens, they will quite happily put a lower perch in for you (about 8-9 inches off the ground)
If you purchase one of these, please mention that you saw them on the Lincs Little Hens website.
We had one of these donated to us by a friend. They are strong, long lasting and solid.

---
We do not endorse Eglu's as we have not seen them "in the flesh". We are just showing the alternatives available on the market.

Alternatively there are Eglu's and Eglu Cubes made by Omlet which are far from cheap but should last a lifetime. We have never seen these "in the flesh" so cannot pass a personal comment on them.
People do seem to like them and they hold their price well second hand but suspiciously there do seem a lot for sale on ebay. Surely if they were that good, people would keep them forever?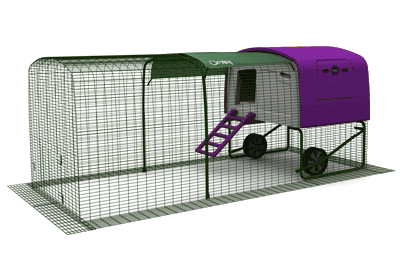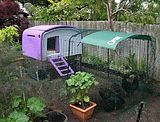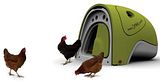 ---
We do not endorse these Chicubes having personally inspected them,
we are just showing the alternatives on the market.

Chicubes (below) are long lasting & hygenic but if you look at their website they are rather peculiar, rather like microwaves & fridges and the REALLY odd ones are the walk in ones that look like workmens toilets! As for "the egg"....well what can we say? None of them are what we would personally choose having had a good look at them close up. (We haven't seen"the egg" close up)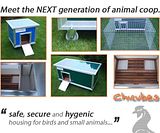 ---
Other people use sheds, Children's outgrown playhouses, wheelie bin stores, they build their own from scratch or have bespoke houses made to suit their own tastes & garden style.
Our personal choice- Bespoke wooden hen houses, sheds, playhouses etc that you can get inside to clean really well. We use correx on the floor to make disinfecting easy, we use a garden sprayer to get in all the nooks and crannies with Jeyes fluid. We then use Eucalyptus treated bedding and the hen houses and nest boxes stay fresh and inviting.
Some people have had red mite problems with wooden housing but we spray with fluids as a precautionary measure and have never had any problems.

Basically you can spend as little or as much as you wish and so long as your hens are in a draughtproof and predator proof house at night, the hens don't mind what it looks like.
---